Rhyolite is a 12 part autophotography series photographed by Makeshift Company in Rhyolite, Nevada and posted backwards on Instagram over 12 consecutive days.
Art and Swanda Badwater, married just 6 months and still strangers, had set off in the morning. Art couldn't remember if it was noon the next day or the day after that their Chevy broke down on a gravel road off 95.
They had rolled their car to the nearest town on the map, Rhyolite. Swanda liked saying the name, she reckoned it sounded like something new and shiny.
Rhyolite was waiting, empty windows stared at them as they passed. Art thought he had a spare part in the back that would get them on their way. They rolled up to an empty storage shed, it seemed as good a spot as any.
No gas left, just what was in the tank. They found some shade to sit in. No radio or clock, just warm sodas and the Nevada sun. Art flicked the pocket knife his dad had given him, "If you find yourself in a hole, quit diggin'" he'd always warned the boy.
Art was sure that the trucks from the gas station would pass by. Was it last week? The days all seemed the same. The blue sky pressed down on them, night got colder though, that was some relief.
Swanda wondered how long they'd been lingering. It was so dusty here. She liked to think of home and the trees and Coldcreek, her family name, so much nicer than the one she now shared with Art.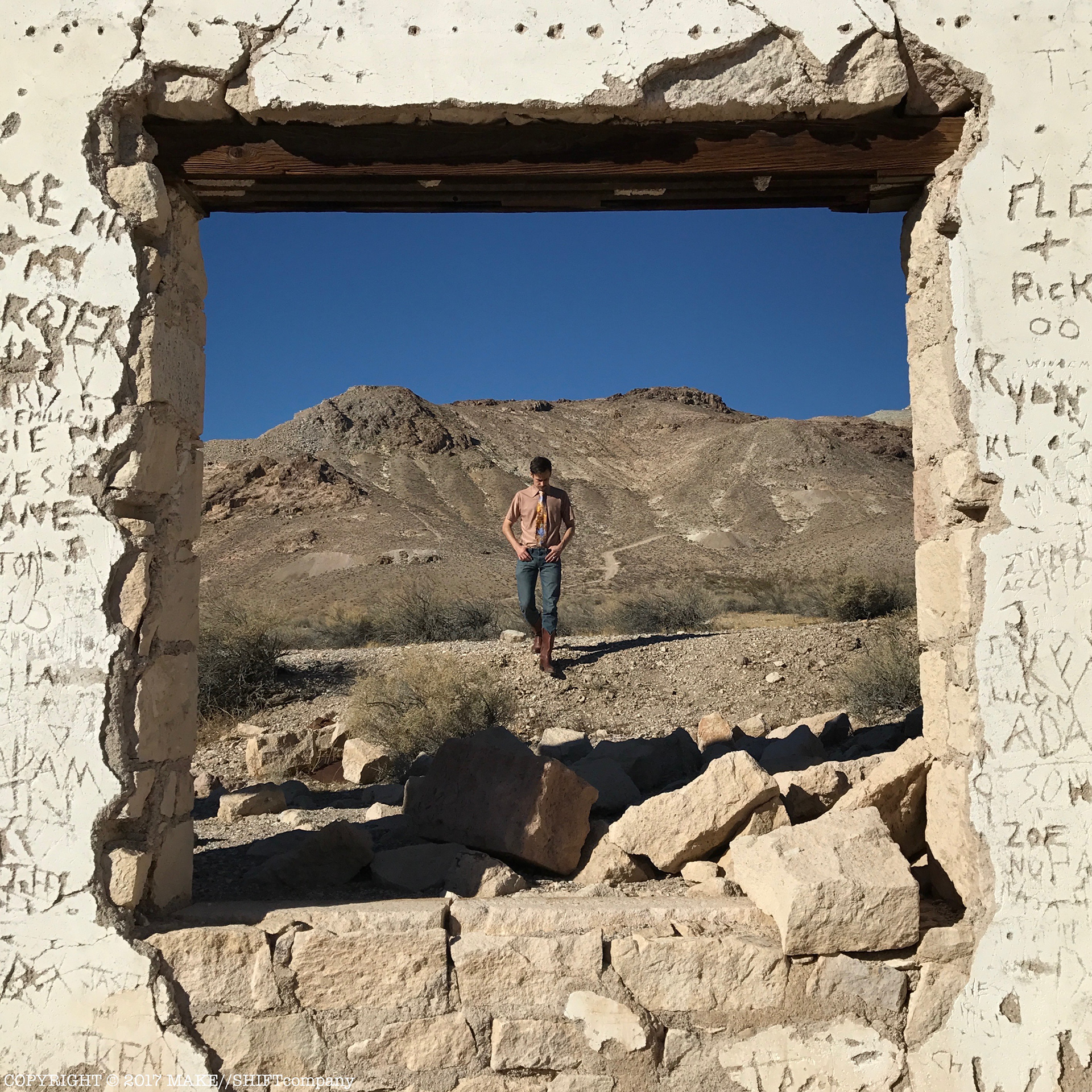 Art recalled boyhood stories of the gold rush, times of tough men and quick fortunes. He saw himself there as a prospector. He also remembered the words "ghost town". Swanda said she didn't like ghost stories.
They couldn't remember if the house was theirs. But it was home, they kept it clean. Careful not to unpack too much, in case they had to leave in a hurry. Surely someone would be along soon.
Memory is a funny thing. It looped back over Art and Swanda like the tail of a scorpion. Had they just arrived in Rhyolite? Or were they thinking of going?
Perhaps they'd stay a while. A town like Rhyolite was really going somewhere: sidewalks busy, saloons fuller every night and rumour had it – a telegraph line was coming in. Art and Swanda reckoned they'd be happy here.